Luxury Furniture and Décor Retailers in and near Jávea
These are what we consider the top luxury furniture and décor shops in and around Jávea that will help you to decorate and furnish your lovely home:
TARRAULA – Jávea
This furniture and décor store based in Jávea features a wide variety of interior and exterior furniture, light fixtures, décor, curtains and carpets, and wallpaper. Their elegant and luxurious designs range from classic and traditional, to colonial and contemporary.
ADDRESS: Carretera Cabo la Nao – Pla. 42, 03730 Jávea, Alicante
CONTACT NUMBER: (+34) 965 79 00 72
EMAIL ADDRESS: info@tarraula.com
WEBSITE: http://www.tarraula.com
REVIEW: Those who have expressed online opinion about the store say that it is an ideal place to find beautiful and original furnishings for one's home.
BELLO HORIZONTE – Jávea
Bello Horizonte in Jávea creates exclusive interior and exterior furniture and décor, using a colonial and antique concept in its designs. The company uses durable yet comfortable materials to produce unique pieces for different environments.
ADDRESS: Carretera de Benitachell, 71 – 03739 Jávea, Alicante
CONTACT NUMBER: (+34) 966 46 28 18
EMAIL ADDRESS: info@bellohorizonte.es
WEBSITE: http://bellohorizonte.es/
REVIEW: Bello Horizonte scores well across different online review platforms, with positive reviews for the quality of the products, and the friendliness and efficiency of the staff. Many clients have also given detailed reviews (and some have posted photos) about what they consider unique and beautifully-designed colonial-style furniture and decoration.
BoConcept – Alicante
With stores or showrooms in various regions throughout Spain, BoConcept provides furniture, décor, and accessories. They call their designs and décor 'simple yet elegant' and made with fine, high-grade materials. The company also offers interior decoration services for client's homes.
ADDRESS: Furniture Department 3rd floor of El Corte Inglés Shopping Center, Avda. Federico Soto 1-3, 03003 Alicante
CONTACT NUMBER: (+34) 965 77 72 57
EMAIL ADDRESS: ecialicante@boconcept.es
WEBSITE: https://www.boconcept.com/en-gb/
NATUZZI ITALIA – Alicante
Founded and established in Italy in 1959, Natuzzi Italia is a popular International luxury furniture company. It now has galleries throughout Spain that provide a wide range of luxury  home furniture, décor, and accessories made from high-quality materials including leather, wood, and metal.
ADDRESS: PTDA. CAP BLANCH, 69, 03590 Altea, Alicante
CONTACT NUMBER: (+34) 965 84 29 18
EMAIL: info@conceptdesign.es
WEBSITE: http://www.natuzzi.com/
REVIEW: Natuzzi Italia maintains high standards, as can be witnessed from the many positive reviews online from customers who have purchased the company's products. Many commend the company for the quality and durability of their furniture.
ROCHE BOBOIS – Alicante
Founded in Paris, France, Roche Bobois collaborates with numerous internationally-renowned designers to create unique luxury furniture and décor. Each piece is exclusively designed to allow clients many distinct styles and the ability to give their homes an individual and unique personality.
ADDRESS: Avinguda Óscar Esplá, 10, 03003 Alicante
CONTACT NUMBER: (+34) 965 98 21 08
WEBSITE: https://www.roche-bobois.com/es-ES
REVIEW: Many clients post online reviews with photos of furniture and décor pieces they purchased, along with positive feedback regarding the quality and design. They also remark on the professional and helpful staff.
Angel Cerdá – Valencia
Based in Spain and undertaking projects all over the globe, Angel Cerdá is a group of companies dedicated to the home furniture and décor industry with a history of over 125 years. They produce modern furniture and décor that resonates with nature, and feature collections such as "Nature Life" and "Urban Deco".
ADDRESS: C/ Costera, 13 Pol. Ind. EL CANARI, 46690 Alcudia de Crespins, Valencia
CONTACT NUMBER: (+34) 962 25 77 62
EMAIL ADDRESS: info@angelcerda.com
WEBSITE: https://www.angelcerda.com/en/
REVIEW: Angel Cerdá receives positive feedback from reviews online, with many commending the company for their quality and design, as well as the exceptional service provided by the staff and their experiences of a smooth transaction and efficient delivery.
HURTADO – Valencia
An international brand with branches in over 50 countries, Hurtado combines 75 years of traditional hand-crafting techniques with state-of-the-art technology to create original and unique Spanish designs. The company offers both traditional and contemporary-designed home furniture and décor.
ADDRESS: Cami Vell d'Albal, 43, 46469 Beniparrell, Valencia
CONTACT NUMBER: (+34) 960 11 00 00
EMAIL ADDRESS: hurtado@hurtadomuebles.com
WEBSITE: https://www.hurtado.eu/en/
MARINER – Valencia
Established in 1893, Mariner is a renowned manufacturer of luxury furniture, lighting fixtures, décor, and home accessories. The company states that they produce unique, elegant, and luxurious furniture and partner with many international designers such as Caterina Licitra.
ADDRESS:
FACTORY: Av. Antic Regne of Valencia, 27, 46290 ALCÀSSER, Valencia
SHOWROOM: C / Lladró and Mallí, 13, 46007 Valencia
CONTACT NUMBER: (+34) 961 32 22 11
EMAIL: info@mariner.es
WEBSITE: http://mariner.es/en/
REVIEW: Mariner has received good ratings online, with many praising the quality of its products, the professionalism and responsiveness of the staff, and the attentiveness to informing customers of the status of their orders.
LOCUS MUEBLES – Valencia
The furniture and décor pieces of Locus Muebles are inspired by the Baroque art and architecture. Although the company produces numerous modern pieces, each product still possesses a Baroque essence that the company believes contributes to an overall luxurious, modern and yet artistic style.
ADDRESS: Avda. Karls Marx, 51, 46026 Horno de Alcedo, Valencia
CONTACT NUMBER: (+34) 963 18 54 75
WEBSITE: https://locusmuebles.com/
REVIEW: Locus Muebles has many pleased online clients who praise the quality of their handmade furniture and also their attention to detail.
VICCARBE – Valencia
Viccarbe in Valencia offers Mediterranean-inspired furniture and décor pieces, specializing in contemporary design. The company features various furniture collections created in collaboration with renowned designers. The company say they aspire to create timeless designs suitable for every environment, from Baroque to minimalist spaces.
ADDRESS: Trav. Camí el Racó 23, P.I. Norte Beniparrell, 46469 Valencia
CONTACT NUMBER: (+34) 961 20 10 10
EMAIL: info@viccarbe.com
WEBSITE: https://www.viccarbe.com/
REVIEW: Viccarbe has been associated with furnishing the offices of some of the top industry brands such as LinkedIn, Google, and Apple, and have received numerous 5-star ratings online, with clients commending the company's designs and quality.
GANDIA BLASCO – Valencia
Gandia Blasco specializes in outdoor furniture and accessories, with a wide selection of modern and contemporary styles. They state their pieces are made from weather-resistant materials to ensure durability and functionality in the outdoors.
ADDRESS: C/ Músico Vert 4, 46870 Ontinyent, Valencia
CONTACT NUMBER: (+34) 962 91 13 20
EMAIL: info@gandiablasco.com
WEBSITE: http://www.gandiablasco.com/en/
REVIEW: Gandia Blasco, according to multiple reviews online, produce expertly designed quality furniture with excellent durability. Many customers who purchased outdoor furniture and carpets from Gandia Blasco also commended the company's magnificent textiles.
GARDEN FURNITURE SPAIN – Calpe
Specializing in luxury outdoor rattan furniture, Garden Furniture Spain offers exterior furniture and accessories. They state that they also produce furniture and accessories from other weather-resistant materials such as aluminum, teak, and bamboo and feature a wide range of luxurious designs and styles.
ADDRESS: Riverway House, Enchinent 10E, 03710 Calpe (OFFICE)
CONTACT NUMBER: (+34) 965 02 03 17
EMAIL: sales@gardenfurniturespain.com / info@gardenfurniturespain.com
WEBSITE: https://www.gardenfurniturespain.com/
REVIEW: Many online reviews state how the furniture looks even better than the photos on the website and commend the quality. Clients have also remarked on the quick, reliable, and professional service.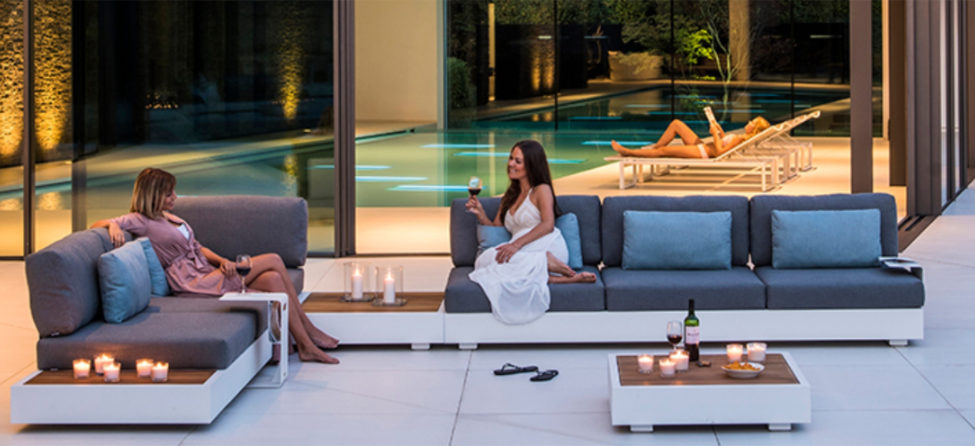 Share post: